Now, more than ever, how we work, the way we live, even how long we live are changing at a rapid pace and only those who can embrace everything that's going on and reinvent themselves will survive and thrive. The Power to Change teaches you how to do just that.
People are finding it increasingly hard to keep up with the pace of change in society and personal lives. Rather than slowing down, change seems to keep speeding up as both individuals and organisations reevaluate priorities and plan for the 'near' future at least.
We're not good at navigating change
By nature, humans aren't good at navigating change. The good news, however, is that there are tangible ways you can learn to handle significant life changes. In his book The Power to Change, Campbell MacPherson explains why even the most substantial organisational change is still personal change and needs to be approached as such. He provides a range of business-focused tools, checklists and models to help you explore how you react to different types of change. Campbell gives you permission to feel emotional and have doubts and fears about change.
Breaking down the barriers
Campbell believes that even tough change is a good thing and provides effective methods for dismantling the barriers which can often prevent you from benefitting from change.
'It is our job to help our people identify their own barriers to change, so they can start to overcome them. It is also our job to encourage our people to air their concerns and fears about any proposed change or strategy, for if these concerns aren't voiced, they will grow in importance and become incredibly strong change barriers. Most leaders of change don't understand this; they simply want their people to nod and comply. This is a big reason why most changes fail'

Campbell MacPherson
Meet the author at our next HR Book Club
On 7 December we're joined by Campbell to discuss The Power to Change. Come along to our HR Book Club to discuss the book with fellow people and business professionals. With Kogan Page's Black Friday sale you benefit from a 35% discount until 30 November. Choose the paperback plus free e-book bundle to start reading straight away. Use code SALE35
The Power to Change provides a genuinely unique approach to celebrating change that will resonate with you, no matter the sort of change you have to confront. You'll also benefit from a range of techniques to put change into perspective, allowing you to embrace and prosper from the challenges change presents.
Human Resources twin challenges
'If your people aren't ready, willing, and able to embrace change, then your organisation will simply not succeed'
The Power to Change has to date provided insightful content for media outlets worldwide including Forbes, Fast Company, CEO Today, Thrive Global, CEO Magazine, CEO World Magazine, City AM, The European, Association of MBA's, TV NZ, Sky News, Om Yoga, The Australian Financial Review, the CIPD annual conference and dozens of podcasts across the UK, US, Canada and Australia.
Awards
In May 2021, The Power to Change was awarded Highly Commended in the Change & Sustainability category at #BBA2021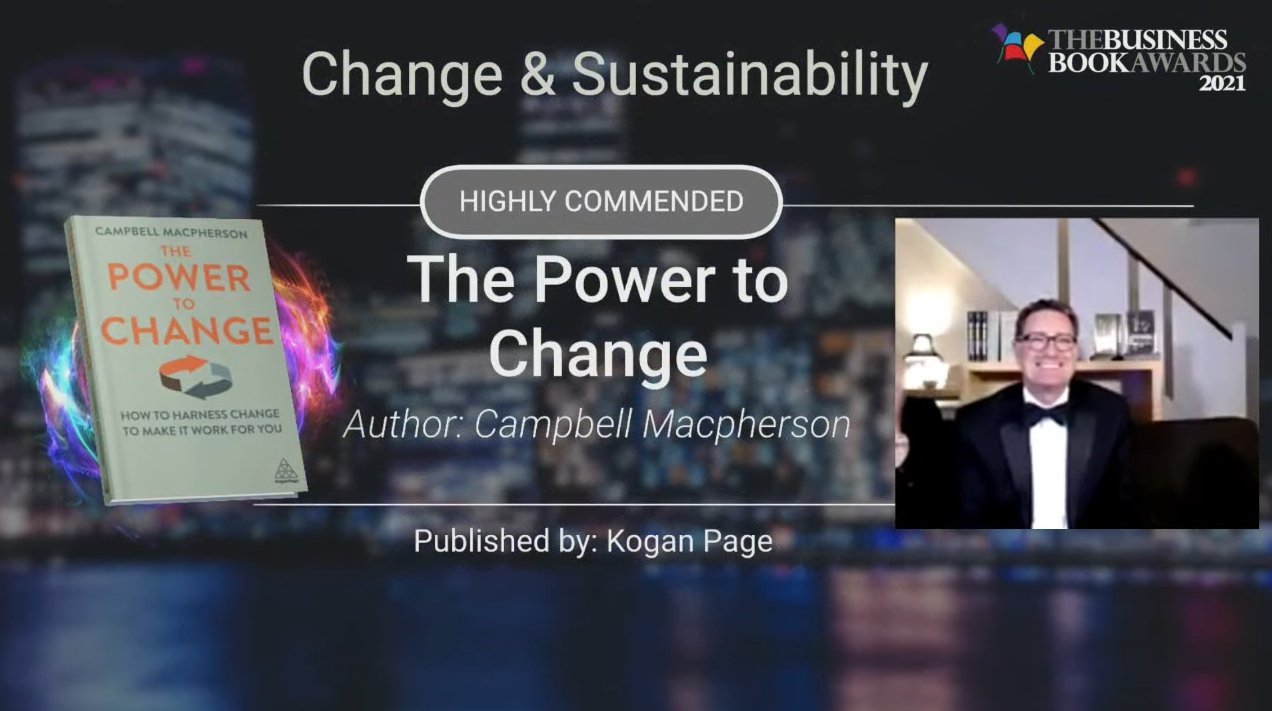 Book your free place today
Related change articles
Helping leaders to adopt a mindset that promotes ethical behaviour requires a number of things as well as a space for conversations. Caroline Wynn explains in her latest piece.
The changes to office life we've experienced reflect work in itself: circumstances never remain the same –it's a case of adapting to the pace of change and putting adequate measures in place to support your workforce.
Leaders are being called to move beyond demonstrating emotional intelligence to having much deeper values-based conversations. At the same time, leaders are being asked to create shared cultures and feelings of belonging with and between people they now rarely interact with person to person.